"As a child, one of the many tutors at court, an elderly man who was named for the Prophet Isa Alayhi s-salām
1
, told me an Hadith
2
of the Prophet Muhammad Alayhi s-salām, which has stuck with me from that day forward.
One of the Ummah
3
had allowed his camel to roam free, reasoning that faith in Allah alone could lead protect one from all woes or struggle, and therefore he took no risk in allowing his livestock to roam free, so long as he had faith.
Muhammad Alayhi s-salām, after questioning this man for his reasoning, and being answered in kind, responded with the phrase, "Tie your camel first, then put your faith in Allah."
The lesson of this story, one which my tutor was always firm in imparting upon me, was that faith alone was not enough. It must be paired with action; labour, carefulness, or even hardship in the name of Allah.
Such is a lesson that, while I took it to heart, I never
truly
understood. That is, until the death of my father, and my inheritance of his realm. The Qur'an tells the Ummah that they must give from what they have in excess, to all those who are in need, and to be good natured to all, even at times when it feels right to be angry, unless someone should attack you first. While this was all well and good, understanding this, and believing this, is useless without applying this to yourself. Thus, it became my prerogative to do so.
Since then, I have been confronted by a world seemingly designed to test the faith of the Ummah of the ash-Shurah
4
faithful. The fates of the Tamazight
5
, who have been strongly aligned with the ash-Shurah for centuries, are at the brink of destruction, by Arab colonizers.
Of course, there are the remnants of the false Kalipha al-Umayyad, who began the practice of ruling the Islamic world as if it were a Roman hamlet, passing it from father to son.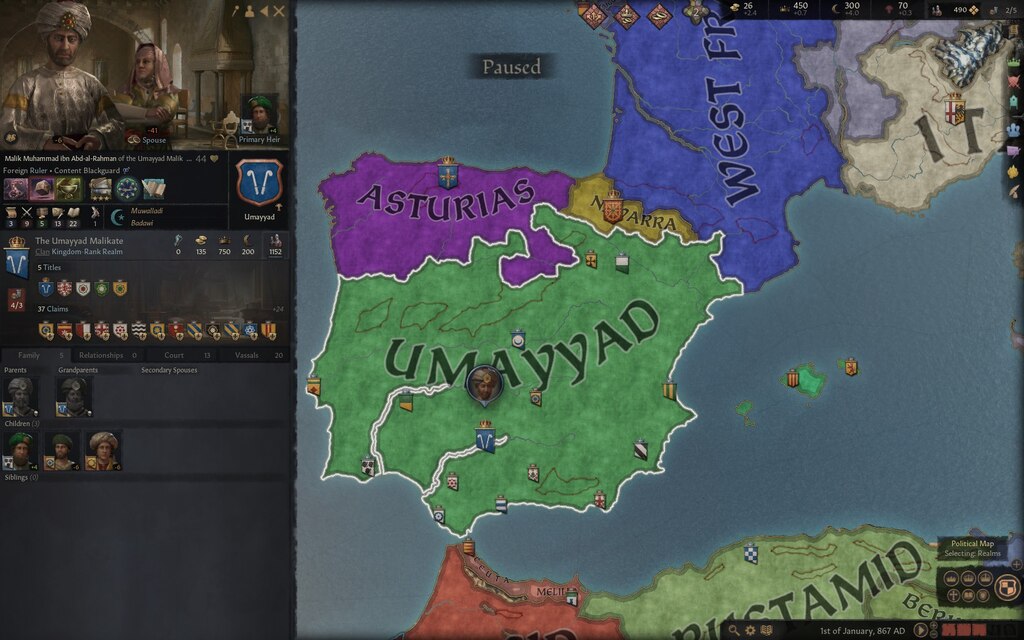 Then, closer to home, the Grand Amir al-Idrisidiyya, ruling over our homeland with an iron fist, claiming to be righteous in their own claim as Kaliphas of the Ummat Shi'at Ali
6
.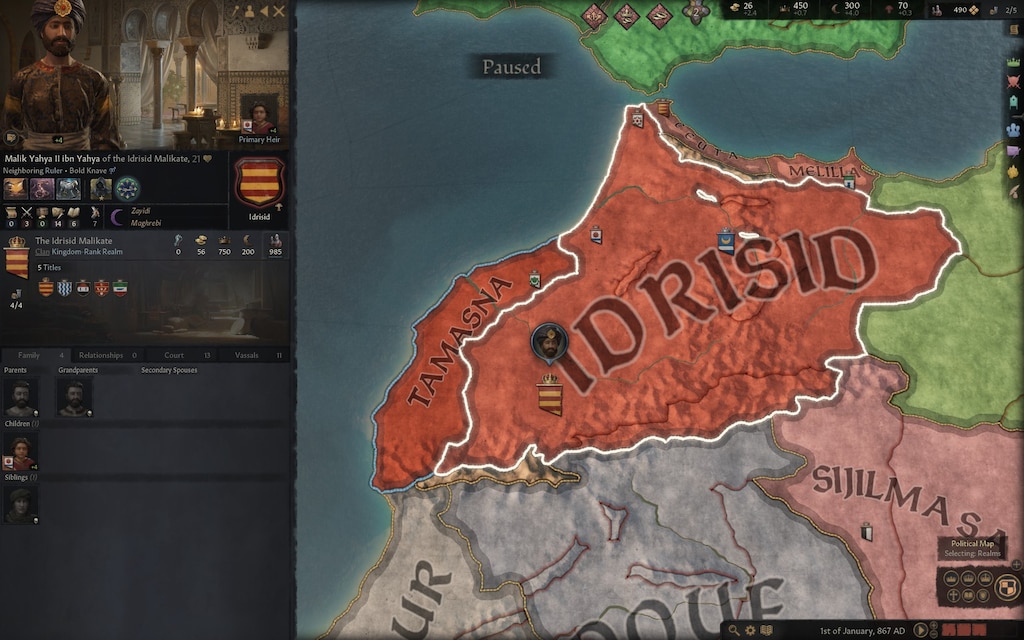 While the Ummat al-Najdati ash-Shurah is faithful, in believing that the Sunni and Shi'a will be swept from our lands, and we will be allowed to live in peace, in Africa, they have grown complacent. This faith must be tempered with action. If nothing else, I believe my rule can provide that."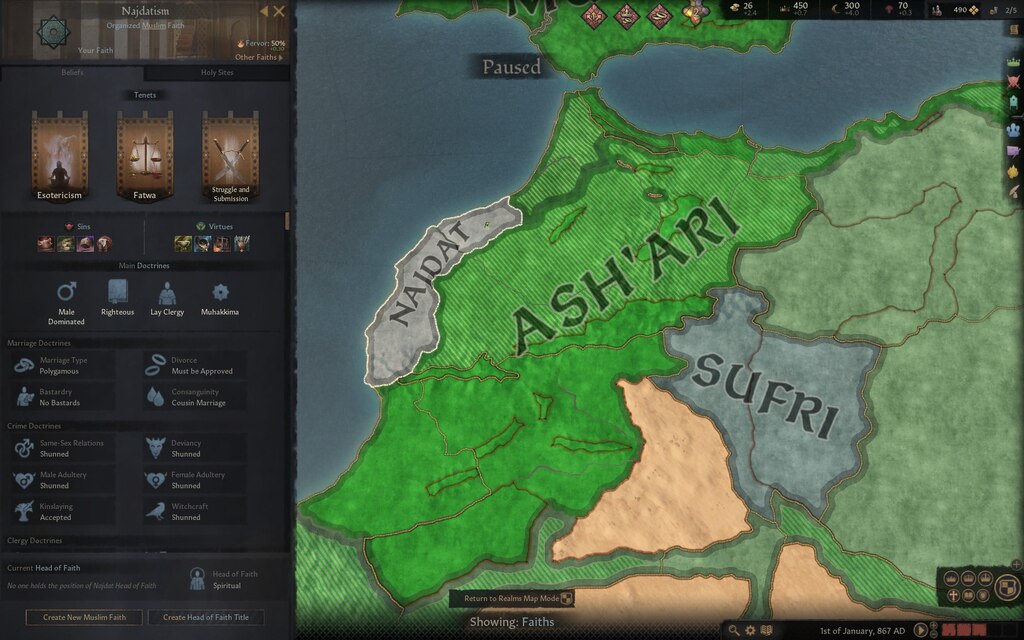 Isa, the Arabic spelling of Jesus, whom they view as a Prophet. "Alayhi s-salām," is an honorific granted to Muslim Prophets, meaning, "Gods peace be upon him."

Hadith are the collections of traditions containing sayings of the prophet Muhammad which, with accounts of his daily practice (the Sunna), constitute the major source of guidance for Muslims apart from the Qur'an.

Arabic for, "Community," which is generally meant to describe a super-national community with a common history. In this context, it is the

Ummat al-Islām

, or Community of the Faithful.

A sect of Islam which, OTL, faded from relevance, that originates in the First Fitna. The name, "ash-Shura," means, "council," or, "consultation," in reference to their belief that the Kalipha can only be named through consultation with God. However, they are known in the modern day as the, "Khawarij," or the, "Kharijites," which is Arabic for, "deserters," or, "traitors," as they are accused of being such by other sects of Islam, as they abandoned Ali, when he agreed to arbitration on the matter of inheriting the Kaliphate, whereas the as-Shura believed this was blasphemous, as only God could choose the true successor. The ash-Shurah were a relatively extreme sect, who believed that God alone could arbitrate who was fit to be the Khalifa of Islam, with some even believing that the position could remain unfilled until God had chosen a successor. Branches of ash-Shurah differ over many things, mostly on matters of how exactly God is to chose a Caliph, though they are largely in agreement that this position should not be hereditary. The only remaining, major branch of as-Shurah is that of the Ibadis, who no longer refer to themselves as ash-Shurah, as they are far less strict in their interpretations of the Qur'an and Hadith.

The Tamazight, or Berbers

(though this is considered a racial slur by the Tamazight, and I would prefer you not use that phrase, thanks)

, are a wide range of indigenous cultures of northern Africa, whose origins predate even the foundation of Carthage by a wide margin. These cultures would be slowly assimilated into the Arabic culture of the Islamic ruling classes, OTL, though they have strong remnants throughout Morocco, Algeria, Libya, and the Sahara Desert. At the time that this is set in, the Tamazight still held sway in large parts of Northern Africa, with some Tamazight confederations even uniting against the Arabs and creating powerful Islamic states in Iberia and North Africa. This would end, however, after the Reconquista period in Iberia, and the Tamazight by modern times are largely a marginalized group in most Arabized African states.

The Shi'at Ali, or Partisans of Ali, are the second main branch of Islam, which believes that Ali was the true Kalipha of Islam. They are known, in the western world, as the Shi'ites.