This is a mod for Species, the first I think. It contains 2 new biomes, Scrub and Tropical Forest (note the lack of Rain- prefix).
Scrub occurs between deserts and grass and savanna as well as near tundra. Here the soil is depleted and moisture is scare enough that grass and large plants are both very rare but can grow. Most plants take the form of shrubs and bushes. The soil is rocky and mixed, having lost some topsoil but not been ground down to sand. Mechanically it's a less abrupt shift and tends to make die-offs less extreme. The Scrub supports grazing but not nearly as well as Savanna or Grassland, so animals won't always starve but can't breed well here. Plants (the ones just called Plant) will take residence here, maintaining the biome and occasionally upgrading it or re fertilizing nearby deserts. Interestingly the can live in Grassland but not many of the other neighboring biomes so they sometimes make things unsuitable for themselves.
Tropical Dry Forest occurs when the fertility humidity is high but the temperature prevents the water from being used as well as in rain forests. This is a rare biome often only appearing on extremely hot worlds. As such I haven't tested it too much but it should be similair to other forests. Conifers can grow here but it's not as active rainforest.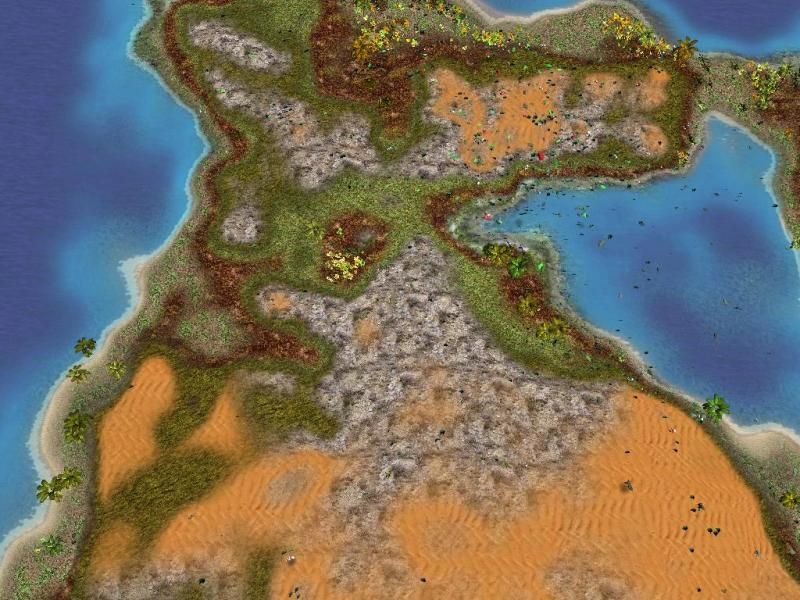 The beachline is smaller on freshwater maps than usual, which is probably reasonable. On salt water maps Swamp now appears instead of beach in the hottest wettest places. All biomes appear in freshwater and all but salt waste appear in salt water (since it's mapped the same as ocean then).
I reskinned the rainforests also. I am not happy with the current Scrub skin. It just doesn't look like a good transistion from the other biomes and looks far too close to Salt at a glance. The grass billboard I found works well though.
Oh, both biomes appear black on the preview in the game setup. This is because I don't have a means to rebuild a new preview color map but I think it can be done with a little help from Quasar. It is a totally minor cosmetic thing you will only see for a few seconds anyway. They can't be next to each other so you should be able to guess which is which.
I've got room for one more biome in the color mapping (assuming the 26th slot (slot 25 counting from 0) doesn't make the grass sprite sheet flip out. Could be Mire, but right now the Swamps aren't even supporting trees anyway so the distinction is meaningless. Could be another extremophile biome like Salt, Lava or Sulphur but not sure what or where. Nothing can really use the existing ones yet anyway. Thoughts?
Upload attachment does not work. The forum pages completely reloads with no text or attachment when it's done.
http://www.mediafire.com/?p1ah9u5z1e33kyr